Clarine Rijpstra-van Daal MA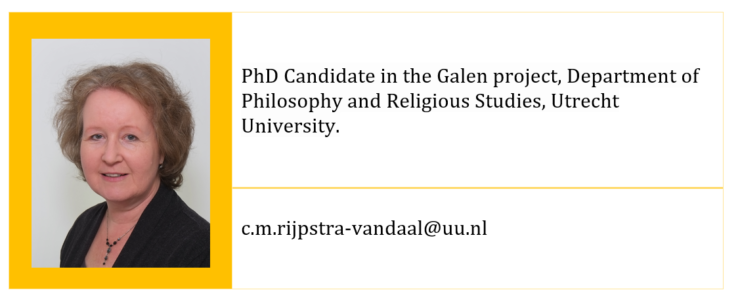 Current positions
PhD candidate in the Galen Project, Department of Philosophy and Religious Studies, Utrecht University.
Classics teacher, Gemeentelijk Gymnasium Hilversum.

Education
Leiden University, Faculty of Arts: MA in Classics, September 1990.

PhD project
The title of the PhD project of Clarine Rijpstra is Galen on Education. The objective of the research is to reconstruct Galen's view of the nature, method and aims of education. Galen took a clear and great interest in this topic but his position needs to be reconstructed on the basis of various treatises and passages and remarks scattered throughout his works. The central question of her research is whether Galen did develop a coherent theory on education. Included in this question is that of the relation between his view of education and his epistemology, logic and methodology.
Her PHD project is supported through a NWO doctoral grant for teachers.
Within the framework of the Galen Project she participates in the team which develops a high school course on Galen.
Selected Talks
2019: 'The Introduction of Galen's Ars Medica: A Good Teacher Explains His Method', International Workshop The Greek and the Arabic Galen: Aspects of Galenic Medical Thought and Teaching, Vienna, 21-22 November 2019 (Convenors: dr. E. Wakelnig and Prof. T. Tieleman).
2019: 'Presentation of QAM, ch. IV 813-822 K = 71,17-79,5 M = 74,11-89,10 B', Reading Seminar CAW, Abdij van Westmalle, 21 September 2019.