Dr Aiste Celkyte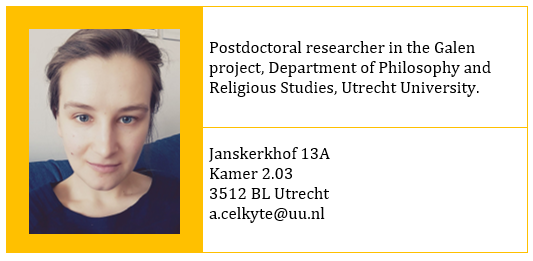 Research Interests
Hellenistic philosophical schools (especially Stoicism), Galen, Plato and the Platonist tradition, ancient metaphysics and epistemology, aesthetics, ancient science.
Education
PhD in Classics, University of St Andrews.
MA in Classics, University of Durham.
BA in Ancient History, University of Durham.
Postdoc within the Galen project

Aiste Čelkyte is a postdoctoral fellow in the Galen project, working on the subproject entitled 'The Unity of Galen's Physiology.' This subproject is dedicated to analyzing how Galen determines the core parts of human beings and how he accounts for the unity of central physiological systems in human bodies. 
In order to answer the question of the coherence and unity of Galen's views of human physiology, his accounts of the nerve system, the pneumatic system and the tripartition as well as trilocation of the soul will be examined. In addition to this, a part of the subproject will be dedicated to examining how Galen engages with issues pertinent to identity in the medical tradition and how he adapts certain mereological concepts to medical contexts. The examination of these issues will be based on a study of a wide range of physiological treatises, with a special emphasis on the works Galen composed later in his career and his Hippocratic commentaries. 
Former Research and Projects
2015-2017 Postdoctoral Fellow, Underwood International College, Yonsei University, South Korea.
2010-2015 PhD student, University of St Andrews (supervised by Prof. Stephen Halliwell).
Thesis: Chrysippus on the beautiful: studies in a Stoic conception of aesthetic properties.
Monographs
The Stoic Theory of Beauty, Edinburgh University Press, September 2020.
Articles in journals and edited volumes:
'Hypatia on the Soul' in: The Routledge Handbook of Women and Ancient Greek Philosophy, eds. S. Brill and C. McKeen, forthcoming with Routledge, London.
'The Soul and Personal Identity in Early Stoicism: Two Theories?' Apeiron 53.4 (2020) 463-486 (first published online in September, 2017).
'The Stoic definition of beauty as summetria', The Classical Quarterly 67 (2017) 88-105.
'Epicurus and aesthetic disinterestedness', Mare Nostrum 7 (2017) 56-75.
Peer-reviewed chapters/encyclopaedia entries
'Hypatia', in: Women in the History of Science: A Sourcebook, forthcoming with University College London Press.
'Ancient Aesthetics,' Internet Encyclopedia of Philosophy (2016).
'An Analysis of Aristotle's Metaphysics,' Macat Int. (2015); Routledge (2017).
Reviews
'A Review of A Companion to Ancient Aesthetics, ed. Pierre Destrée and Penelope Murray (Wiley-Blackwell, 2015),' International Journal of Philosophical Studies 25:5 (2017), pp. 731-734.
'A Review of Hypatia: The Life and Legend of an Ancient Philosopher by E.J. Watts,' Bryan Mawr Classical Review, 2017.10.07 (http://bmcr.brynmawr.edu/2017/2017-10-07.html).
'A Review of Teleology in the Ancient World, ed. Julius Rocca (CUP, 2017),' Bryan Mawr Classical Review, 2018.10.13 (http://bmcr.brynmawr.edu/2018/2018-10-13.html).
Other
'Kodėl verta būti stoiku?' ('Why would anyone be a Stoic?') Pašvaistė  2013/3, pp. 28-30.
Invited talks
'Movers and Shakers: Galen on the Nature of Demiurgic Acts,'  Ancient Life Sciences: Aristotelian and Hellenistic Approaches (convenors: I. Kupreeva and T. Tieleman), Pt. 2, Edinburgh-Utrecht,  7-8 December, 2020.
'The irreducibility of higher cerebral functions in Galen', at the 43rd Annual Ancient Philosophy Workshop at UT Austin, 6-7 March, 2020.
'Presentation of QAM, ch. IV 782-791 K = 44,6-51,11 M = 25,14-38,4 B', Reading Seminar CAW , Abdij van Westmalle, 20 September 2019.
'Asclepiades of Bithynia on the Soul', Hellenistic Philosophy and Science, Utrecht University, 23-24 April, 2019.
'Galen on Parts and Wholes', Montagskolloquium, Humboldt-Universität zu Berlin, 14 May, 2018.
'Socratic Sophrosunê in Charmides and Symposium,' OIKOS Ancient Philosophy Day, Utrecht University, 2 March, 2018.
'Plato's Theory of Forms and the concept of Truth', The Book Symposium on Blake E. Hestir's Plato on the Metaphysical Foundation of Meaning and Truth (2016), 20 June, 2016.
'The Stoic definition of Beauty as summetria', Workshop on ancient philosophy, University of Hokkaido, Japan,  7 November, 2015.
'The Stoic notion of the wise man as a thought experiment', Seoul Seminar in Early Modern Philosophy at Seoul National University, 28 June, 2015.
'Two Stoic notions of soul', Underwood International College workshop on the History of Philosophy, 6 June, 2015.
Submitted papers
'Lost and Found: Hypatia's Philosophical Views', Women Intellectuals in Antiquity, Oxford University, 15-16 February, 2020.
'Inference to the Best Explanation in Galen,' The 12th London Ancient Science Conference, Institute of Classical Studies, London, 12-15 February 2018, Feb. 15th.
'The Contents of Chrysippus' On The Beautiful', Forgotten Books and Cultural Memory, Taipei Tech, 27 June 2016.
'Stoic Thought Experiments', Scottish Classics Postgraduate Conference at The University of Edinburgh, 20 February, 2014.
'The Stoic Argument 'That Only The Beautiful is The Good', The 31st annual joint meeting of The Society for Ancient Greek Philosophy (SAGP) With The Society for the Study of Islamic Philosophy and Science (SSIPS) at Fordham University, 12 October, 2013.
'Are the Stoic Views of Love and Beauty Self-Contradictory?', Postgraduate Work-in-Progress seminar at London Institute of Classical Studies, 3 May 2013.
'Only the wise man is beautiful': the Stoic paradox', Postgraduate Work-in-Progress seminars at Dublin Trinity College 2012, 12 November 2012.
'The ancient version of emergence? The Stoic definition of summetria', Ancient Science Conference at UCL, 10th October, 2012.
'What does it mean to be a beautiful individual in Stoicism?', Kings College London postgraduate conference, 4 June 2011.
'To Make Oneself Beautiful in the Eyes of God: Do the Stoics Recognise Beauty of an Individual?', STAGE, 10 June 2011.